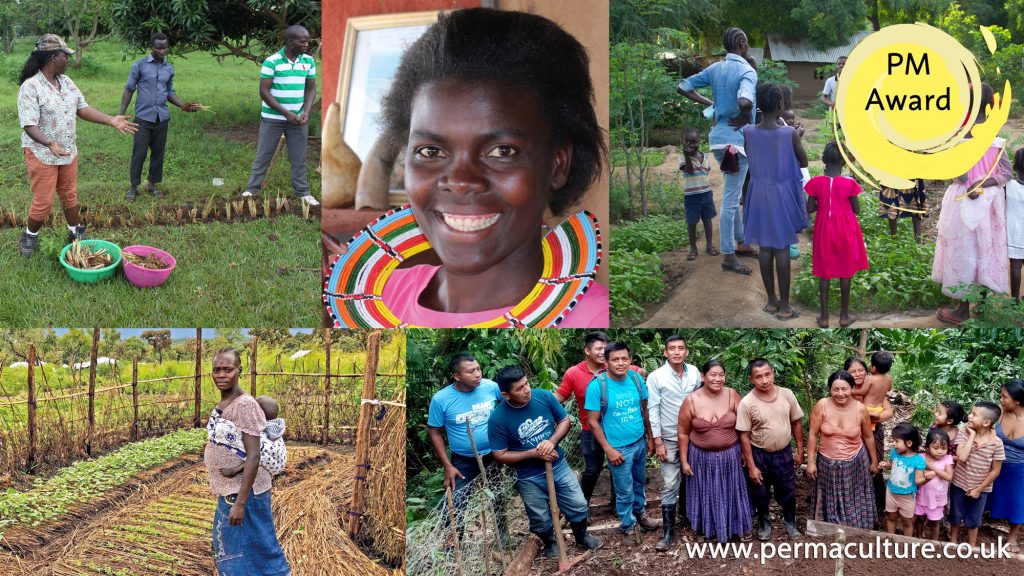 The Permaculture Magazine Award is an annual celebration of the vital work of permaculture projects from around the world.
The Permaculture Magazine Award was established in 2018 and has awarded 24 projects with over £130,000 to date (May 2023). The award has received hundreds of applications, and it is a privilege to highlight this vital regenerative work that is world changing.
The aim of the award to is to celebrate and support projects that are:
Regenerating damaged land
Enhancing habitat and biodiversity
Helping people to gain practical and community skills
Adding value to produce and developing local economies
Building community, creating social glue and greater economic resilience
Modelling new ways of cooperating and new cultural paradigms.
Permaculture magazine wants to specifically award money to permaculture projects that reach ordinary people and demonstrate best practice permaculture both in terms of ecological and socially / culturally innovative design. Any project can apply if it has been functioning for at least three years and has established its place within its community. Our panel of prestigious judges come from a range of backgrounds and work tirelessly to shortlist projects to be awarded. Learn more about our judges here:
2023
For 2023, the Permaculture Magazine Award is in collaboration with the Lush Spring Prize. A fund of £15,000 has been awarded to three projects:
Sol Haven, UK – https://slhavens.co.uk
Tejiendo Futuros NGO, Guatemala – https://tejiendofuturos.org
Unidos Social Innovation Centre, Uganda – https://unidosprojects.org
For full details on the winners READ HERE
For the shortlist, visit: www.permaculture.co.uk/articles/permaculture-magazine-award-2022-shortlist
2022
The 2022 marks the fifth year of the Permaculture Magazine Award with £30,000 to be shared between three prizes: Permaculture Magazine Award; Permaculture Prize sponsored by Lush Spring Prize and the Youth in Permaculture Prize sponsored by Ethos Foundation and Abundant Earth Foundation.
Vad Permaculture Demonstration Farm, India – www.earth4ever.in
The Regenesis Project, Philippines – www.theregenesisproject.org
Mangwende Orphan Care Trust, Zimbabwe – https://mangwendeorphancaretrust.org
Amazonian Permaculture Network of Pacayacu – RAP, Ecuador – www.clinicambiental.org
For full details of the winners visit: www.permaculture.co.uk/articles/global-climate-change-solutions-hope-and-inspiration-from-around-the-world
2021
The 2021 Prize was awarded to Sector 39 who work in three African countries delivering practical training and education locally with skills such as seed saving, permaculture design, home gardening, building rocket stoves – to alleviate poverty, enhance nutrition, health and the local environment. www.sector39.co.uk
2020
The 2020 winners, Contour Lines Corp, on Guatemala's coastline educate local farmers in regenerative farming methods, moving away from slash and burn agriculture, which is highly destructive to local landscapes.
The four runner's up projects were:
EcoHub (Sporos Regeneration Institute), Greece – http://sporosinstitute.org
Kilombo Tenodé, Brazil – www.kilombotenonde.net
Friends of the Environment, Northern Sierra Leone – www.facebook.com/Friends-of-the-Environment-11489275036846
Swayyam, southwest of India – https://swayyam.org
For full details of the winners visit: www.permaculture.co.uk/articles/celebrating-activists-voices-permaculture-prize-for-projects-transforming-lives-and-landscapes
2019
The 2019 winners, African Women Rising, create innovative and long-term solutions to help solve food security in Palabek Refugee Camp, North Uganda.
The four runner's up projects were:
Instituto Mesoamericano de Permacultura (IMAP), Guatemala – https://imapermacultura.org
Northern Youth Project, New Mexico – www.northernyouthproject.org
Permakultur Kalimantan Foundation, Borneo – www.permakulturkalimantan.org
The School of Earth, Greece – https://neaguinea.org
For full details of the winners visit: www.permaculture.co.uk/articles/30000-permaculture-magazine-prize-celebrates-climate-change-solutions
2018
The 2018 winners, Ghana Permaculture Institute (GPI) train local farmers in a range of skills, including beekeeping and setting up indigenous tree nurseries, to create sustainable livelihoods that are also beneficial to the environment.
The four runner's up projects were:
Albaydha Project and Albaydha Development Co., Saudi Arabia – www.al-baydha.com
Guba, Swaziland – www.gubaswaziland.org
Bentley Urban Farm, UK – www.bentleyurbanfarm.com
Permaculture Provision Project, USA – www.permacultureprovision.org
For full details of the winners visit: www.permaculture.co.uk/articles/25000-permaculture-magazine-prize-announces-winners
Youth in Permaculture Prize
This prize celebrates and supports young people, 25-years-old and under, who are using permaculture design principles to make positive change within their communities and local environment.
The Prize is sponsored by Abundant Earth Foundation, an initiative comprised of philanthropists and activists working to regenerate environmental and social landscapes by supporting others through pooling resources to create a more just and inclusive world for all. By giving funds directly to those implementing the projects, this grassroots approach to philanthropy offers a direct link between donations and impact. www.AbundantEarthFoundation.org
2022
Now in its fifth year, the £10,000 Youth in Permaculture Prize is awarded by Ethos Foundation and sponsored by Abundant Earth Foundation.
Full details can be found at: www.ethosfoundation.org.au/2022-youth-in-permaculture-prize
2021
In 2021 the prize was held by Lush Spring Prize, with four recipients sharing the award.
Nineteen-year-old Jefferson Rodolfo Anchundia Yumbo, president and spokesperson for Sacha Kuyrana Maltakuna in the Sachawaysa rainforest, Ecuador works to repair damaged soils and provide nutritious food to feed his community by promoting the planting of ancestral plants in home gardens. He helps give a voice to his Kichwa people through social media and ecotourism.
Schools and Colleges Permaculture Programme (SCOPE Kenya) teaches permaculture and agroecology through a holistic approach working with students, teachers, parents, local leaders and communities in Kenya.
The Malawi School Permaculture Clubs (MSPC) program is designed to improve sustainability and create true systemic change which is community-led and owned through a decentralised model to be self-run in the long-term.
Education for Climate Action offers programs working with youth refugees, asylum seekers and low income high school and college students in Malaysia who lost their livelihood during the pandemic.
2020
The Vijana Twaweza Club won in 2020. Set up by refugee youths, they work to combat extreme poverty and environmental degradation in Kakuma Refugee Camp and Kalobeyei Settlement in Kenya.
2019
Mohamed Qasim Lessani of Afghanistan won in 2019 due to his use of permaculture design to transform schools into models for basic human security, including food, water and energy – even in areas of extreme poverty, violence and war.
2018
The 2018 winner was 24-year-old Millicent Anyango, who uses permaculture methods to feed orphans, school children, and the homeless in Kenya. Millicent grew up an orphan in Kenya and now works at her orphanage teaching the children about fresh, nutritious food.