Winter is a challenging time when it comes to food growing, so why not take advantage of what nature provides for free? More often than not, our hardy wild plants will offer us nutritionally-high greens for the salad bowl or cooking pot (often far higher than from plants generally grown or bought), and provide us with safe, effective medicine!
Hardy winter greens
When in the garden or plot at this time of year, the otherwise-ignored wild plants will grab our attention, and naturally so, because there is precious little other growth about. The simple aim of this article is for people to think thrice about ripping these gifts out of the ground and plonking them on the compost heap. For that would be a waste of the food and medicine on offer, as well your valuable time and energy. Not very permaculture!
One plant that you will almost certainly come across, is that most tenacious of cultivated weeds, little old chickweed. Yet not too many years ago, it would have been one of the plants that we turned to for food during the darker months.
Getting to know… Chickweed
Stellaria media – Caryophylaceae  family
Chickweed is one of about 120 species of annuals and perennials from a genus also containing stitchwort (Stellaria holostea). They belong to the same family as the tasty, sea campion (Silene maritima), and the valuable cosmetic plant, soapwort (Saponaria officnalis).
Chickweed, as will be observed right now in your garden or plot (unless meticulously managed), is a prolific species. There is no real need to go out foraging for this plant! As an ephemeral species, it requires only around 13 weeks to flower and set seed. In different places, throughout the whole of the year, you will continuously see this plant, often with the foliage appearing as a curved and domed, lime-green mat.
Chickweed loves moist soils and numerous sites, happily growing up to elevations of 900 metres. It has very slender, but tenacious roots. The somewhat brittle, round stems, can sometimes be red-tinged and are usually covered in small fine hairs. The growing stems quickly branch and spread, enabling the plant to form distinctive bright mounds of new growth almost anywhere, if conditions are favourable. In flower, this plant grows to around 30-40cm high.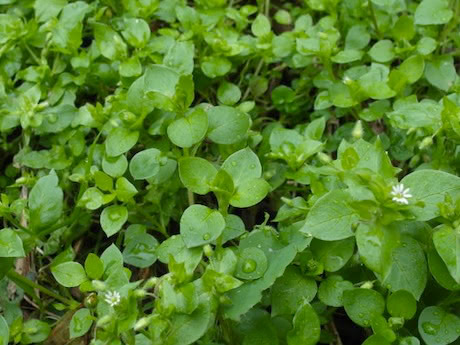 The leaves are quite small, being oval-shaped with a cordate base, and typically growing to around 2.5cm long. They are in opposite pairs on the stems, carrying a prominent, often white, mid-vein. Chickweed's flowers arise from the leaf axils, on slender-stemmed and initially pendulous buds, before their small but alluring, white pin-pricks of star-shaped flowers eventually bloom. These are notable for their sets of joined petals (usually five), and are typically 5-8mm in diameter.
Chickweed is exceptionally abundant in towns and country during the spring, autumn, and winter, especially the milder ones that we were getting used to, until recently. It will occasionally be found romping away in shadier spots during the summer, but it doesn't enjoy hot sunshine.
What parts are used? Leaves and tops.
Harvest time: Available most of the year, although sometimes difficult to find in hot summers. When large or plentiful, harvest just the tops.
Medicinal attributes: Mucilage, minerals (magnesium, phosphorus, copper), flavonoid (rutin), vitamins C, B6, B12, D and A.
Medicinal actions: Demulcent, emollient.
Uses: This plant was one of the Victorian's favourite salads, and I can't blame them! The earthy succulence, and soft yet crisp textures, go really well in any salad. When we talk of foraging for alternatives to expensive, nitrate-soaked, plastic-packed salads – then this plant, which grows freely for us, screams out to be used!
Chickweed also has a long history of traditional uses as an emollient for the skin, helping cases of eczema, psoriasis, ulcers, boils, and abscesses. It can be administered through poultices, compresses, baths and through its consumption! Internally chickweed can be used for rheumatic and respiratory conditions, especially where excessive mucous is present.
The acclaimed Juliette de Bairacli Levy, observed that this plant was employed around the world. She also saw a resemblence between its uses and that of slippery elm: a prized, and also mucilage-rich, digestive and emollient plant. As such, Bairacli Levy rated chickweed as one of the most valuable weeds in the garden. Slippery elm does not grow wild in Britain and is an endangered plant due to the ravages of Dutch elm disease, so we may come to use and cherish chickweed more and more in a post-peak-oil society.